About AIS Technology
For a good introduction to AIS technology, please refer to the Wikipedia article on AIS.
Hardware Requirements
AIS Radar 3.0: any iPhone or iPad running iOS 12.0 or newer.
AIS Transponder or Receiver with integrated or external serial (NMEA) to Wi-Fi adapter. See below for a list of devices.
Feature Summary
Radar PPI-like (plan position indicator) display of AIS targets with course/heading and speed information.
Selectable display range.
Symbols for different targets (vessels with AIS class A and class B transponders, SAR aircraft and navigation aids).
Computes closest point of approach (CPA) and time to closest point of approach (TCPA) for AIS targets.
CPA and TCPA warning - visual and aural warning when a target's CPA and TCPA are below configurable minimums.
Tap to select targets, double-tap to display detailed information about selected targets.
Pinch gestures and +/- buttons to change display range.
Different radar display modes: Heading Up, Course Up and North Up.
Optionally hide slow moving (or non-moving) targets from Radar view.
List and detail views for AIS targets, displaying all available information about a target in clear form.
Viewer for AIS safety-related broadcast messages.
Supports iPhone and iPad, in portrait or landscape orientation.
Receives AIS/NMEA data via TCP or UDP.
AIS Transponders and Receivers
Following is a list of AIS transponders and receivers that should work with the AIS Radar application. Please note that not all of these devices have been tested. Also, the list is certainly not complete.
Serial to Wi-Fi Adapters
The following serial to Wi-Fi (or NMEA to Wi-Fi adapters should work with the AIS Radar application. Generally, all serial to Wi-Fi adapters will work that support the AIS serial data rate of 38.400 bps and that provide the AIS data stream on a TCP port or via UDP.
Digital Yacht WLN10HS (and others)
Brookhouse iMux
Digi Connect® Wi-SP
Roving Networks RN-370
SEAMate1A® Lite
Setup Tips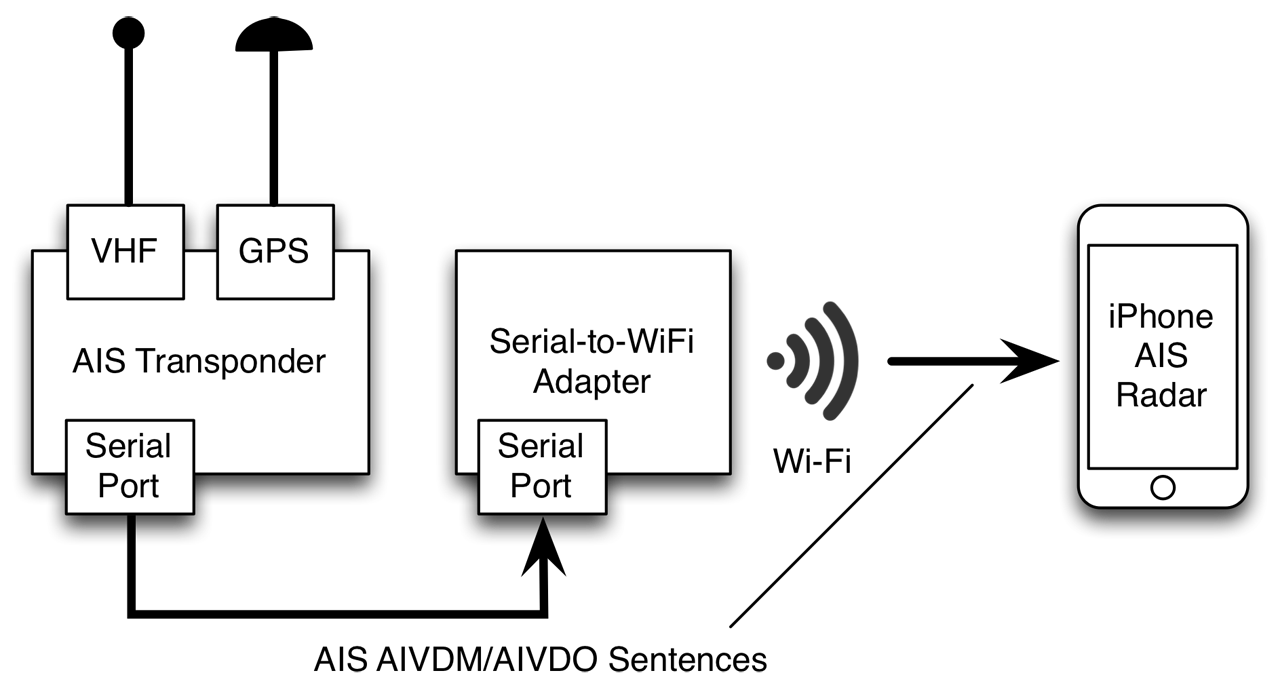 Connect your serial to Wi-Fi adapter to your AIS transponder or receiver. AIS transponders/receivers have a serial port (RS-232 or NMEA 0183) with a transfer rate of 38.400 bits per second. Please consult your serial to Wi-Fi adapter documentation for detailed set-up instructions.
Connect your iPhone to your serial to Wi-Fi adapter's wireless network (Settings > Wi-Fi).
Launch the AISRadar application and go to Settings > Network. If you have a Roving Networks serial to Wi-Fi adapter, Automatic Setup should automatically find the correct settings. Otherwise, turn off Automatic Setup and enter the IP address (for TCP) and port number of the serial port data stream. You can find this information in the documentation that came with your serial to Wi-Fi adapter.
Provided you receive AIS data (other ships with AIS transponders must be within range), you should see these ships on the Radar and Targets screens.
Disclaimer
This application is no replacement for professional marine equipment. Always adhere to the principles of good seamanship, maintain proper lookout and use caution and common sense when commanding a ship.
Privacy
AIS Radar does not collect and transmit any information from your device to us or anyone else.